Achieving financial goals shouldn't be so hard.
Remember how many times you have set out to save money.
Then give up after a few months? Telling yourself that saving money is not your thing.
Achieving financial goals is actually possible.
If I could do it, anybody can do it today.
You didn't fail at it because you're worthless.
You failed because you lacked the right, practical knowledge.
Today, I want to let you in on a tool (Piggyvest) that helped me on my journey towards achieving my financial goals.
Goals Crushed Using Piggyvest
Saving up my 6-months emergency fund
Saving for my MBA program and other professional programs
Saving for my baby's birth, naming and dedication
Saving for vacation and other travels
Saving for set-up costs of my online business
Achieving these goals doesn't mean I have some financial super powers. In fact, I'm not very good with money, even up to this day.
I achieved my financial goals by leveraging technology.
And this has been the best decision I've ever made.
My goal with this post is to help you get better at savings using technology like Piggyvest.
Don't feel this is necessary?
Well, I know how frustrating living a financially careless life can be.
For example, as full time employee in a large organization, I have seen first-hand how people with poor financial discipline live from pay check to pay check…
Borrow to pay rent
Borrow to buy a car
Borrow to enroll and complete post graduate programs
Borrow to take care of urgent expenses
Borrow to start a business
Does the situation above look familiar?
If yes, it's time to change something. It's time to get out of the vicious cycle.
You can do it. And here is how…
Steps to achieving financial goals using Piggyvest
So how do you make these steps work for you?
It's quite easy. You only need to commit to making financial freedom happen for you.
Below I'll try to walk you through the steps. There's nothing tough here…
State Your Current Income and Amount You Want to Save Monthly
There are many complex financial formulas to help you get an amount to set aside monthly.
But why waste time when there's a simple, common sense way?
Ever heard of Pareto Principle or the 80/20 rule?
Vilfredo Pareto gave the world a simple way to make so many complex decisions.
Let me not bother you with Pareto's story. You can read all about Pareto Principle here.[2]
In settling for how much to set aside monthly, here is what you can do…
20% of total income goes to savings.
80% of total income goes to living expenses, charity, and recreation.
This is what has worked for me. I know it'll work for you if you use it.
Simple is always better!
So if you earn ,let's say, ₦100,000 monthly, you can save ₦20,000 using Piggyvest.
Set SMART Goals
In the world of business, whenever goals are mentioned, everyone starts thinking about the acronym, "SMART."
SMART is an acronym for the features goals worth pursuing must have.
SMART means Specific, Measurable, Attainable, Realistic and Timely.[1]
So how do you know if a goal is SMART, or not SMART?
It's simple. Let's make sense of this with an example of a guy who wants to build a house in the village.
Un-SMART Goal: Build a big house in the village.
SMART Goal: Build a 3-bedroom bungalow costing ₦10 million by 2026 in the village using monthly savings from my salary.
Why is the first goal un-SMART?
It looks more like wishful thinking.
It's not Specific (what kind of house?).
It's not Measurable (what will it cost to put up the house?).
It's not Attainable (the means tells us if the end is possible. No clear mention of what is needed and if it's available)
It's not Realistic (how can you build a big house without evidence of how you're going to make it happen?).
It's not Timely (you can choose to go ahead to build the house or not to build the house).
Why is the second goal SMART?
It looks logical, having clear SMART features.
It's Specific (Build a 3-bedroom bungalow in the village)
It's Measurable (A 3-bedroom bungalow with a cost of ₦10 million)
It's Attainable (The means of getting ₦10 million for this house is through his salary)
It's Realistic (Goal is realistic since there's a salaried job and the ability to save is there)
It's Timely (The funds required for the house should be completely saved by 2026)
Once you have set your SMART goal, write it down.
Then head over to Piggyvest to create your account and start saving today…
Create an Account with Piggyvest
Go to Piggyvest.com website. [When you click on this link to register, you get free ₦1,000. Call it your welcome bonus.]
Click on "Create Account" as shown below.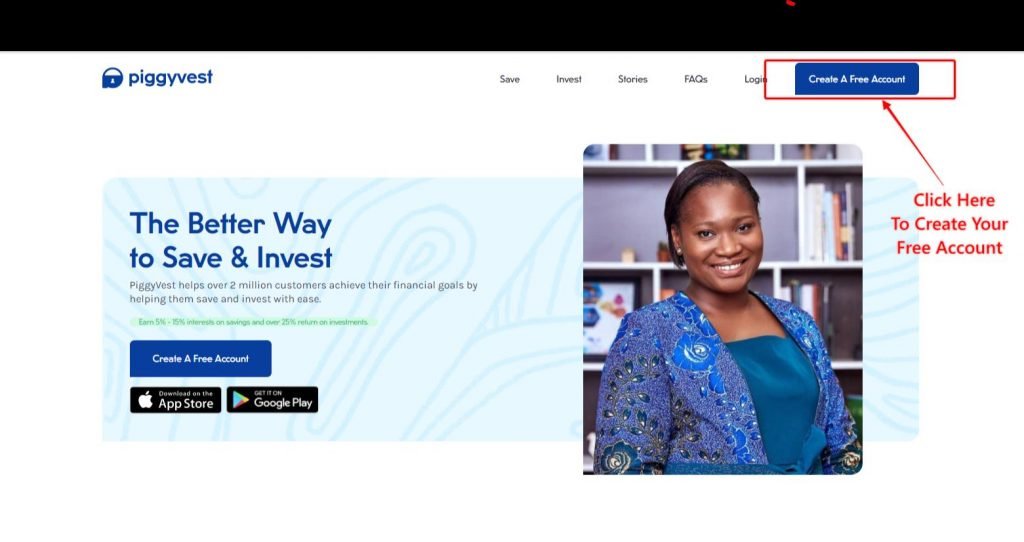 Fill the form field below and click create account
Do your email verification. A verification mail will be sent to the email you entered when you filled the registration form.
Add your BVN or NIN. I used BVN, but you can use your NIN. Don't get scared over this. Piggyvest is super safe. [Jump to the FAQ section to see why].
Add your debit card details for automated direct debit from your chosen account. Again, nothing to worry about. It's all safe. [Read the FAQ to clear your doubt]. This feature is brilliant, in my opinion. Why? the direct debits from your account are free. No bank charges, whatsoever! Also, you don't need to worry over missing your monthly savings. Automation has handled it.
Make sure you add a security question to secure your account.
Redeem your ₦1,000 bonus.
Congratulations. You've scaled the first hurdle.
Choose A Target Matching Your Set Goal and Start Saving
Here is how to navigate to the target matching your set goal…
Click on "Savings" in your dashboard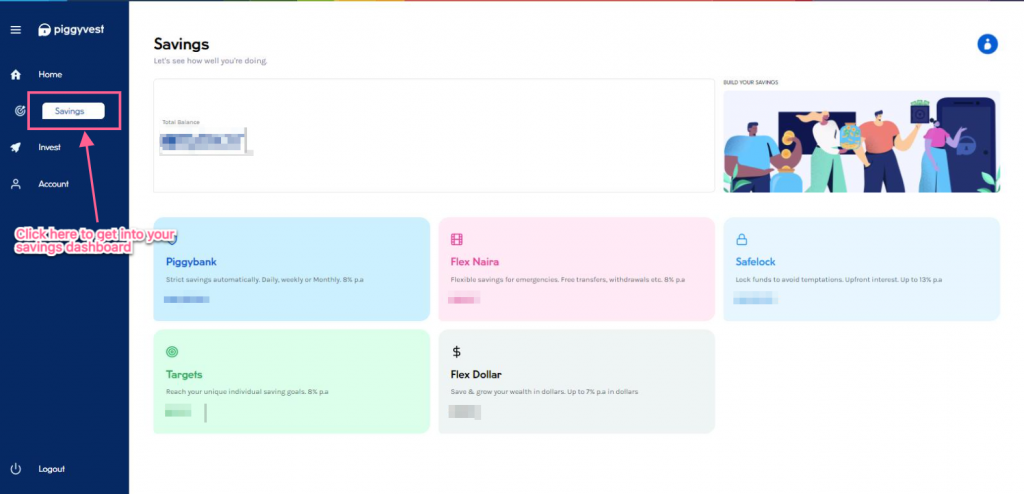 Click on target to set a personal target or join a public target with other savers.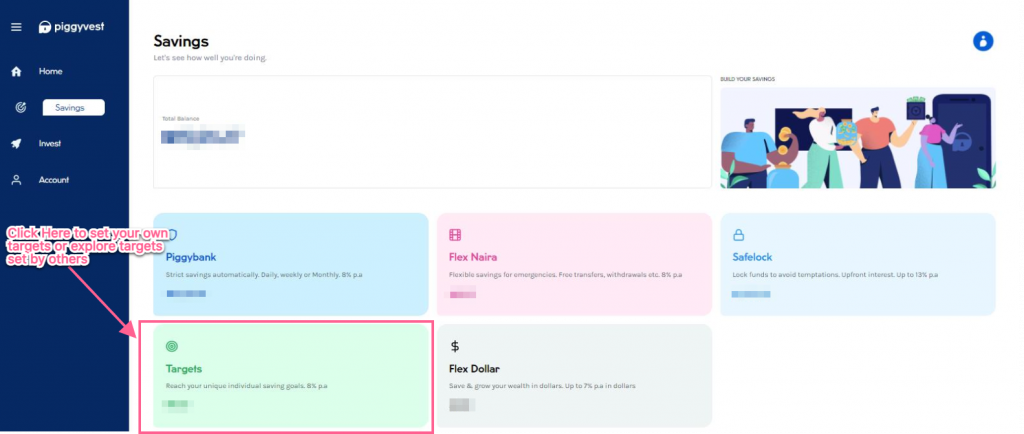 Create a target or select a target already created by other happy savers
This is the feature I find most useful in Piggyvest.
With the saving challenge feature, you select targets that match your goals. Then save diligently until you crush your goals.
Okay, I know what you're thinking. "What if I have a need and want to break the challenge?"
Well, I don't break saving challenges.
The penalty for doing so is weighty: Lose all accrued interest. Then lose 1% payment gateway fee to Piggyvest.
I'd rather not lose these funds. So I save!
Withdraw Your Funds Once Your Goal Is Completed
I love money. The savers I know on Piggyvest also love money.
There's a special joy you feel when you receive money you've saved.
It means a lot: you can start and see goals through to the end.
It boosts your self esteem.
So, once your maturity time is reached and you have completed the saving challenge.
Withdraw your funds. Buy that car. Pay that rent. Go on that vacation. Go on a shopping spree. Buy that land. Start that small business.
You deserve it. Congratulations.
Frequently Asked Questions (FAQ)
Is Piggyvest Safe?
Yes, It is. Piggyvest has acquired its own microfinance bank, which is fully licensed by CBN. Also, there are many security features around your personal details to ensure no one can access your fund. You can read more about the security features of Piggyvest here.
Can I Withdraw all My Funds from Piggyvest?
The minimum amount you can withdraw from your Piggyvest aaccount is 3,000 and there is NO maximum. You can withdraw all your funds whenever you want.
Why Should I Share My BVN or NIN with Piggyvest?
Your BVN is required to validate your identity and kick against identity theft. This ensures another level of safety for your funds and transactions.
Sources
[1] "Setting-Goals.pdf." Accessed: May 13, 2021. [Online].
[2] "Pareto principle," Wikipedia. Apr. 28, 2021. Accessed: May 13, 2021. [Online].